The bar chart shows the top ten countries for the production and consumption of electricity in 2014.
Summarise the information by selecting and reporting the main features and make comparisons where relevant.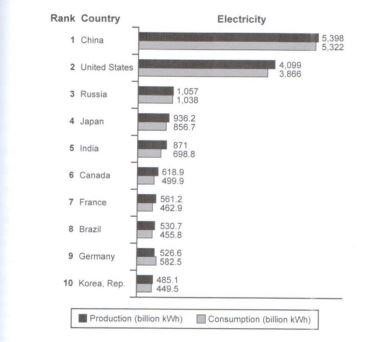 The given graph represents the Electricity produced and Consumed by ten different nations in the year 2014. As observed, it is clear that both the factors held maximum and minimum values for nations belonging to the East Asian region. The values are calculated in billion-kilowatt hour.
To begin with, China has shown the highest records for power consumption with a value of 5,398 which is almost more than one thousand as compared to its developed counterpart United States of America. The results are on the same lines for the production of Electric power as well. A complete flip, however, occurs for Russia, Japan, and India, wherein these nations have both utilization, as well as productiveness, ranged between one fifth to one-sixth respectively, as compared to China.
Considering the North American and European nations, they were on the lesser side amongst all the consumers and producers. Canada, France, and Brazil had values ranging between 618.9 to 530.7 for manufacturing electricity, while on the other hand, the expending was lesser yet similar to the former category. Germany and the Republic of Korea showed similar trends too but were amongst the least of all the ten countries.