The maps below show the centre of a small town called Islip as it is now, and plans for its development.
Summarise the information by selecting and reporting the main features, and make comparisons where relevant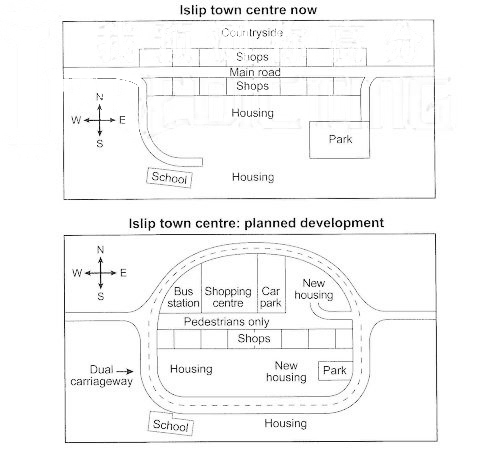 The given graphic representation shows the Islip town Centre development presently and its futuristic approach too. It can be clearly seen that the planning for the future is more streamlined and is enclosed as compared to the present structure.
Currently, the main road in the center is engulfed by shops lined together to its south and this pathway finally leads to the school on its south-west while to the park on the south eastern side. The housing is situated in between the former structures adjoining the shops. Towards the north of the site, another set of shops is constructed whose back is towards the countryside.
The planned map has a lot of changes. The main road will be converted into double lane engulfing all the buildings in the Centre. A pedestrian path will be constructed in place of the main road. Towards its north, a bus station and car parking will also be added and amidst them will lie a shopping Centre, while shops at its south will be as before. The old housing and the school in the extreme south remain intact and the park is planned to be at the same site but reduced in size. A slight change is added to the area beneath the shops wherein new housing is added while shifting the housing towards east.