The plans below show the layout of a university's sports center now, and how it will look after redevelopment.
Summarise the information by selecting and reporting the main features and make comparisons where relevant.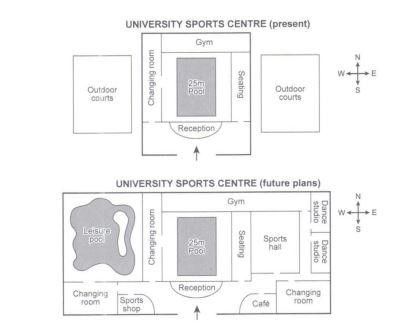 The illustrations provided represent the present and futuristic planning of a Sports Centre in a University. It is clearly evident that a more systematic approach is looked forward to, as compared to the present structure.
Looking at the current arrangement, two outdoor courts are situated at equal distances on the western as well as eastern side of the main hall which sits amidst them. The main entrance is through the South, leading to the reception area straight. Behind this is a rectangular swimming pool of twenty-five meters. The room for changing clothes is on the left of the pool, while the seating is on the right. Also, a gymnasium is provided at the back of the pool.
In the future, all the components are planned to be integrated as a single and systemized unit. The reception area will remain the same with the exception of increased gym area. A sports hall will be adjoining the seating section, with two combined dance studios towards its East. Towards the left and the right of the entrance, however, two new additions: Sports shop and a changing room at the former, while café and another changing space towards the latter are added. A pool for leisure purposes will be constructed at the West of the Sports Centre.